Do you love found family? Meddling old people? Murder mysteries? Tea? Well, then Vera Wong's Unsolicited Advice for Murderers is going to be right up your alley. Throw in a healthy dash of hate for NFTs and you've got a Certified hit on your hands.
Overview
Vera Wong's Unsolicited Advice for Murderers is the latest novel published by Chinese Indonesian author Jesse Q. Sutanto. It follows the life of an elderly, widowed Chinese woman who owns a rundown tea shop in San Francisco's Chinatown. Vera is lonely and alone, save for the single daily customer she has each morning. An elderly gentleman who comes for tea and then hurries home to care for his wife who is suffering from dementia. Vera's son is a busy lawyer who doesn't have much time for his bossy mother. Vera's days have become mundane and dreary but she soldiers through because what else is there for her to do?
Enter the dead body. One morning when Vera comes down the stairs for her daily walk, she finds a dead body laying on the floor in the middle of her tea shop. Vera calls the police and then quickly sets about tidying things up and brewing tea for the officers when they arrive. Unfortunately, the police do not want to drink her tea (ginko, for clear minds) and do not seem all that impressed with the outline she has helpfully drawn around the body for them. They also don't think that the dead body is anything to worry about. Probably just a druggie who stumbled inside before dying of an overdose. But Vera knows better.
Over the next few days, Vera's shop suddenly has lots of new visitors. Four different young people she has never seen before show up at various times. Vera knows from all of her years of watching CSI that the murderer always returns to the scene of the crime. She is certain that one of these young people is the dead man's killer. Vera decides that she will get to the bottom of this crime like only a Chinese mother can… with food and nosiness.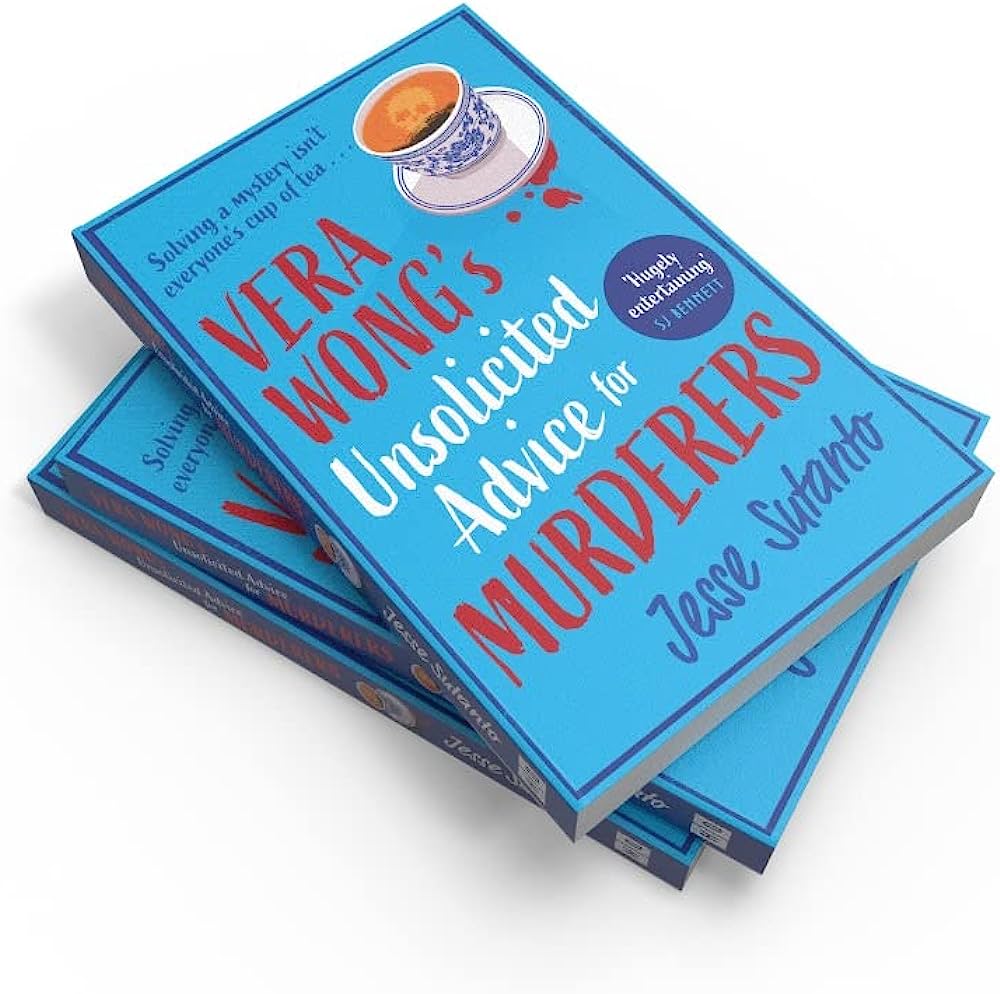 Personal Thoughts
This book was a bit of a slow starter for me. In the beginning I really did not like Vera at all. She was annoying. However, as the young suspects came into her life, Vera became a much more interesting and likeable character. It became clear that Vera is a woman with lots of love and energy and nowhere to put it all. With the arrival of four young people who's messed up lives clearly needed a Vera, she suddenly had a place to put all that energy.
As the title might suggest to you, this book is a lot less about solving a murder than it is about a group of four individuals who could use the advice of an elderly Chinese mom. Riki is an immigrant from Indonesia who could use a local family. Sana has a driven South Asian mother who has provided her artist daughter with many things, but understanding is not one of them. Oliver (who nearly gives Vera a heart attack when he shows up since he is the twin brother of the dead man) has no family to speak of, having been long since estranged from his wicked brother and distant father. Julia is the widow of the abusive dead man, who told her he was leaving her and their young daughter on the day before his death. She is lonely and exhausted and could use the help of strong Chinese mother like Vera.
I love a good found family trope and this is definitely a good one. The characters are all interesting and the way their stories unfold and intertwine is delightful. It was beautiful to watch Vera blossom with energy once she had people to cook for and lives to meddle in. The tea and food descriptions were delicious sounding enough to have me drooling. I listened to the audiobook version and the narration by Eunice Wong was excellent. Definitely recommend picking up this book for an easy, cozy summer read.