Gigi Pandian's second book in her Secret Staircase book series couples magic and mystery with death and detective work. If you're looking for a new twist on a cozy mystery, The Raven Thief might be for you.
Overview
The Raven Thief is the newest book in the Secret Staircase Mystery series. The series currently consists of the first book, Under Lock & Skeleton Key, and short Christmas mystery set before The Raven Thief. The series tells the story of Tempest Raj, the latest in a long tradition of family magicians. And when we say magicians we mean slight of hand, misdirection, and illusion. Decades ago Tempest's grandfather left India for Scotland where he gave up magic and studied medicine. He met an artist, fell in love, and eventually they moved to America. Tempest's mother and aunt carried on the family tradition of magic and her father is a talented carpenter who specializes in trap doors, machines for magic tricks, and secret staircases.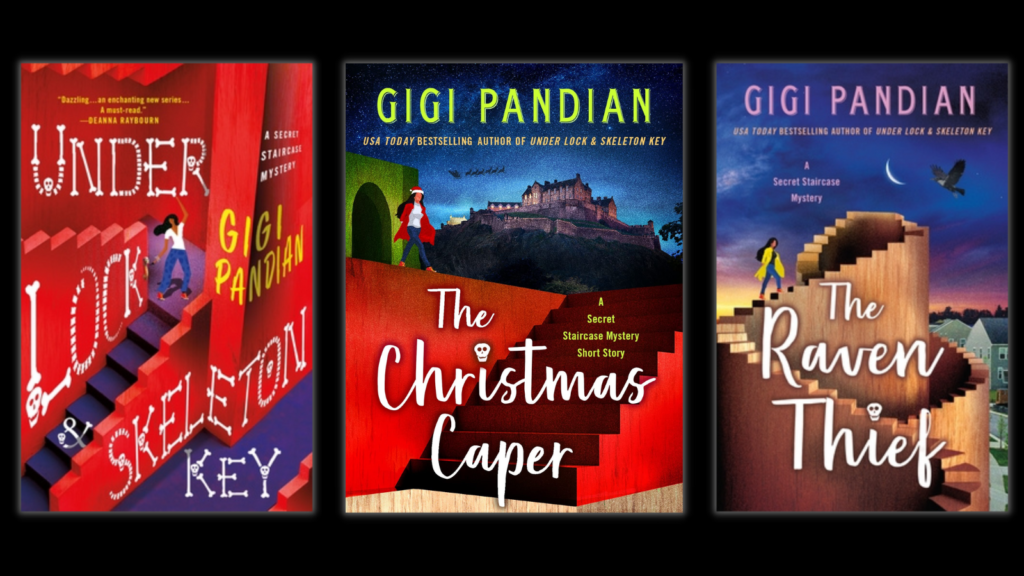 Tempest's mother has gone mysteriously missing after looking into the suspicious death of her sister. This is the over-arching mystery running through the series. It has to do with the supposed curse placed on the magician side of her family back in India all those years ago. While I haven't read the first book in the series, I found that the details of that bigger mystery were provided well enough in the second book that I understood it fine without. Tempest has decided to retire from the magician life after the events of the first book in the series. She has taken up her mother's position in the family business renovation business, Secret Staircase Construction. Tempest's mother was the previous creative brains behind her father's skilled workmanship. The business specializes in creating things like moving bookshelves and hidden staircases.
In The Raven Thief, Secret Staircase Construction has been hired to completely renovate a newly divorced woman's basement from her husband's office into her own book lair. The woman is a huge fan of mystery novels and wants a special space that reflects that. Unfortunately, on the day that she holds a sort of house-warming party to show off her new space, her husband shows up too…. dead. The eight guests at the party are all suspects in the murder, but it can't have been any of them since they were all seated and holding hands performing a séance when the body showed up. Now it's up to Tempest and her family to figure out who really killed this famous mystery writer who once wrote about a murder eerily similar to his own.
Personal Thoughts
I really, really enjoyed this book. So much so that I added the previous two book in the series to my "plan to read" list on Goodreads before I was even halfway through this one. Since finishing The Raven Thief, I have also added the first books in Pandian's other series to my plan to read list. I found the writing amusing and the characters endearing. The concept of a retired magicians translating their knowledge of tricks and misdirection into detective work is fun and fresh. I loved the different contraptions that they built into different spaces. What bookworm doesn't want a secret staircase hidden behind a bookshelf that leads to a private reading nook?
The mystery in this book was complicated and clever enough to keep me guessing throughout. I didn't figure it out before the main character did which is always nice in a cozy mystery. And this mystery IS cozy. Despite the complicated nature of the murder, and the sometimes scary scenarios the lead finds herself in, the general vibes are about friends, family, and a little side of romance. I really love a cozy mystery… I've hardly watched any Asian dramas this month because I've been caught in the trap of British/Australian cozy mystery series. I have read a lot of cozy mysteries in my time, and I do not think it's an exaggeration to say that this is one of the best I've ever read.