The new book Ebony Gate by writing team Julia Vee and Ken Bebelle is a stunning start to what looks to be a fantastic series. It is a dream of an Urban Fantasy story, weaving together a variety of Asian communities through a shared mystical ancestry. If you love swords, dragons, and magical spirit lions…. have I got the book for you!
Julia and Ken have been writing together for literally decades. Well, they started writing together decades ago in grade 8 and then took a long hiatus before beginning to write together again in 2017. Since then they have penned a dozen fantasy and sci-fi novels together. Ebony Gate is the start to their third series together. Their first series, Cold War, takes place in a future Earth being terraformed by Aliens. Their second series, Seattle Slayers, is an Urban Fantasy action series full of Fae and vampires.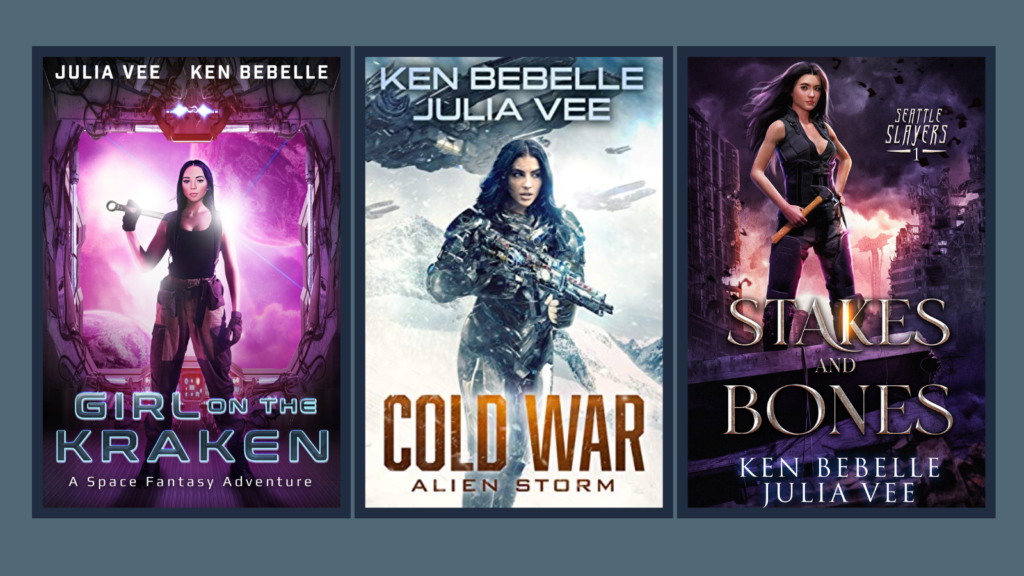 With their third series, Ken and Julia seem to have jumped full force into the Asian mythologies for their fantasy world. There are no European fantasy creatures in the first book of their Phoenix Hoard series. This series is set in in the city of San Francisco. It centres around the character of Emiko Soong. She is the descendant of two different dragon clans and her parents are both strong Talents in their own rights. Unfortunately, Emiko has no magical talent of her own. The talents are dragon abilities passed down to the magical descendants of 8 powerful dragons. Their descendants live among humans on earth, hiding their abilities and moving among us throughout the world. The stronger clans amass wealth and power in both the natural and supernatural worlds.
With no magical talent, Emiko has had to prove herself another way. At one time, that was with her sword. Two years prior to the start of this book, Emiko broke her clan sword and retired from her position as the Blade of Soong. Now she has started a new life for herself on the other side of the world. In the relatively young city of San Francisco, she has a business dealing in antique artefacts. Unfortunately, her past as the Blade cannot be entirely forgotten and the city elders call on her to kill magical monsters that pop up within the city limits from time to time. On top of the magical monster killing, Emiko continues to have to navigate the clan politics that she tried to leave behind when she came to America.
And now, she has a new problem. The Ebony Gate which sits on a local Hellmouth, holding back the dead hordes in Yomi, has been stolen. The shinigami who's job it is to re-seal the gate is owed a blood debt by Emiko's mother, and he has come to collect. Now she has 3 days to find the mystical gate so it can be re-consecrated or San Francisco will have a new Emiko-shaped statue when the shinigami uses her soul to create a new plug for the Hellmouth. Emiko is going to need the help of one of the two powerful hoard clans in the city, but one of them is probably the thief, so who should she trust? Each day she'll have to navigate city politics and every night she'll have to hunt the ghosts that are slipping through the cracking wards of the Hellmouth.
I love, Love, LOVE this book. There were a few repetitive small info dumps throughout the storytelling, but it didn't distract me enough to be truly bothersome. The characters are all richly crafted and interesting. There is a wonderful found family aspect while also looking at the importance of blood family. The pacing of the story felt just right and I was never bored. I really like the way that there are many different Asian mythologies and cultures represented in a way that creates a unity while still allowing for uniqueness and without making up an orientalist mishmash. I am very much looking forward to reading the next book in the series. Unfortunately, like when I read the ARC for Iron Widow, the sequel is still a long way off and I am just going to have to suffer.