I just finished reading the middle grade novel Zachary Ying and the Dragon Emperor with my 11 year old. In honour of author Xiran Jay Zhou announcing that they have a movie deal for their book Iron Widow, I'm going to share some of the kiddo's thoughts with you all.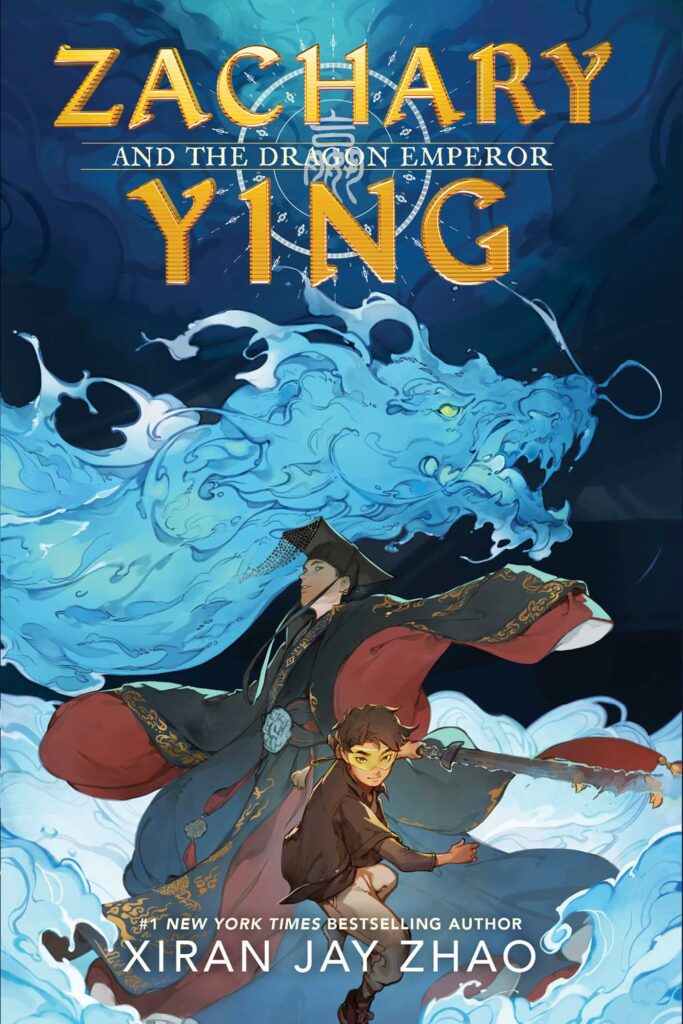 I first started Zachary Ying by myself. I needed an audio book to read and it was available immediately on my library app. I loved Iron Widow by the same author, so I thought for sure I would love this too.
I was wrong. I liked it fine, but I just wasn't that into it. I've done all the Percy Jackson books, and started a few other series in that vein, but I am clearly not the target audience for books like this, and this time I felt it. I was ready to let the book go and just shelf it to my DNF shelf on Goodreads.
But then my son and I took a trip out to our trailer last weekend and I thought it would be nice to listen to for our drive out. I had planned to get this book for his birthday but it wasn't out yet at the time. I wasn't sure that he was that into it initially.
Boy, was I wrong! We got out to the trailer and he made sure that I stopped the audio until he could listen to it again. We listened through dinner. We listened by the campfire. We listened during breakfast the next day. We had a big chore that took a lot longer than expected, and he did not complain once because he was so engrossed in the book.
For those of you who are unfamiliar with the story, Zachary Ying is a 12 year old Chinese American boy who's mother brought him to America as a political refugee when he was just a baby. His father had been killed by the Chinese government for speaking out about the way that Muslims were being treated in their country. Zachary's mother has raised him to speak English and has taught him nothing of Chinese mythology or history. Zachary strives to fit in with the kids at school and plays a game called Myth Realm which is part Pokemon Go and part Dragonball Z. Kids use and AR headset similar to Google Glass in order to play the game with quicker controls.
One day another Chinese boy named Simon joins Zachary's school. Through Simon and a series of very wild events, Zachary learns that he is the host to the spirit of a long dead Chinese Emperor. The Emperor's attempt at controlling Zachary's body goes horribly wrong and he instead winds up trapped in Zachary's Myth Realm headset.
Hijinks ensue.
A major part of the story involves Zachary needing to learn more Chinese history and mythology in order to better battle the creatures that come his way. He also needs to learn more about the history of the emperors who he is fighting alongside in order for their powers to become stronger. At one point my youngster posited a theory about Xiran Jay Zhou creating this book full of facts with a more nefarious plot in mind…
He is now over the moon about the fact that his, and I quote, "favourite author" responded to him. When we finished the book he told me that it was in his top 5 books of all time, but this response has bumped it up into the top 3 😅
Final Thoughts:
Well, as mentioned above, this book definitely got the middle-grader seal of approval. He cannot wait until the next book comes out. He loved learning so much of China's history. I really liked that because of the nature of Zachary's upbringing, the sharing of all of these facts and stories didn't feel forced. My child learned right alongside the character he was sharing the journey with. And I hope that doesn't make this book sound like it was a chore or a boring history lesson full of nothing but facts. This book was an adventure. We laughed out loud. We were riveted. Yes, it took a second try for the book to resonate with me, but it was so much fun to experience it with my kid along for the ride.
Would I recommend this book? For middle grade kids, absolutely without hesitation. For adults, well, if you enjoy stories like Percy Jackson, or Dragon Pearl, or the Narnia books, I don't see any reason why you wouldn't enjoy this adventure too. Xiran Jay Zhou is a fun and dynamic writer who is an excellent world-builder and creates incredibly real characters. This book might not be for everyone, but when it finds its audience, it hits just the right spot.